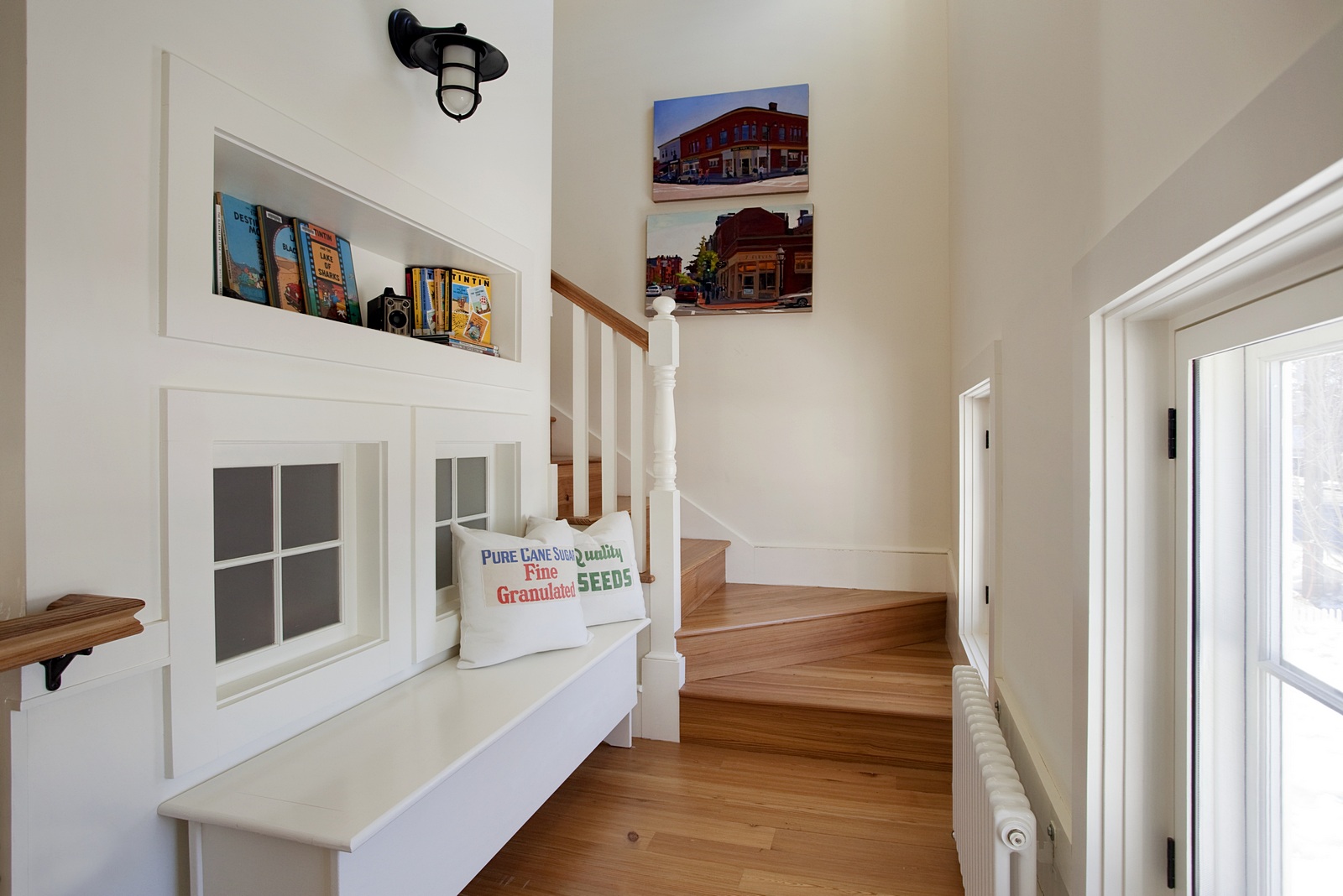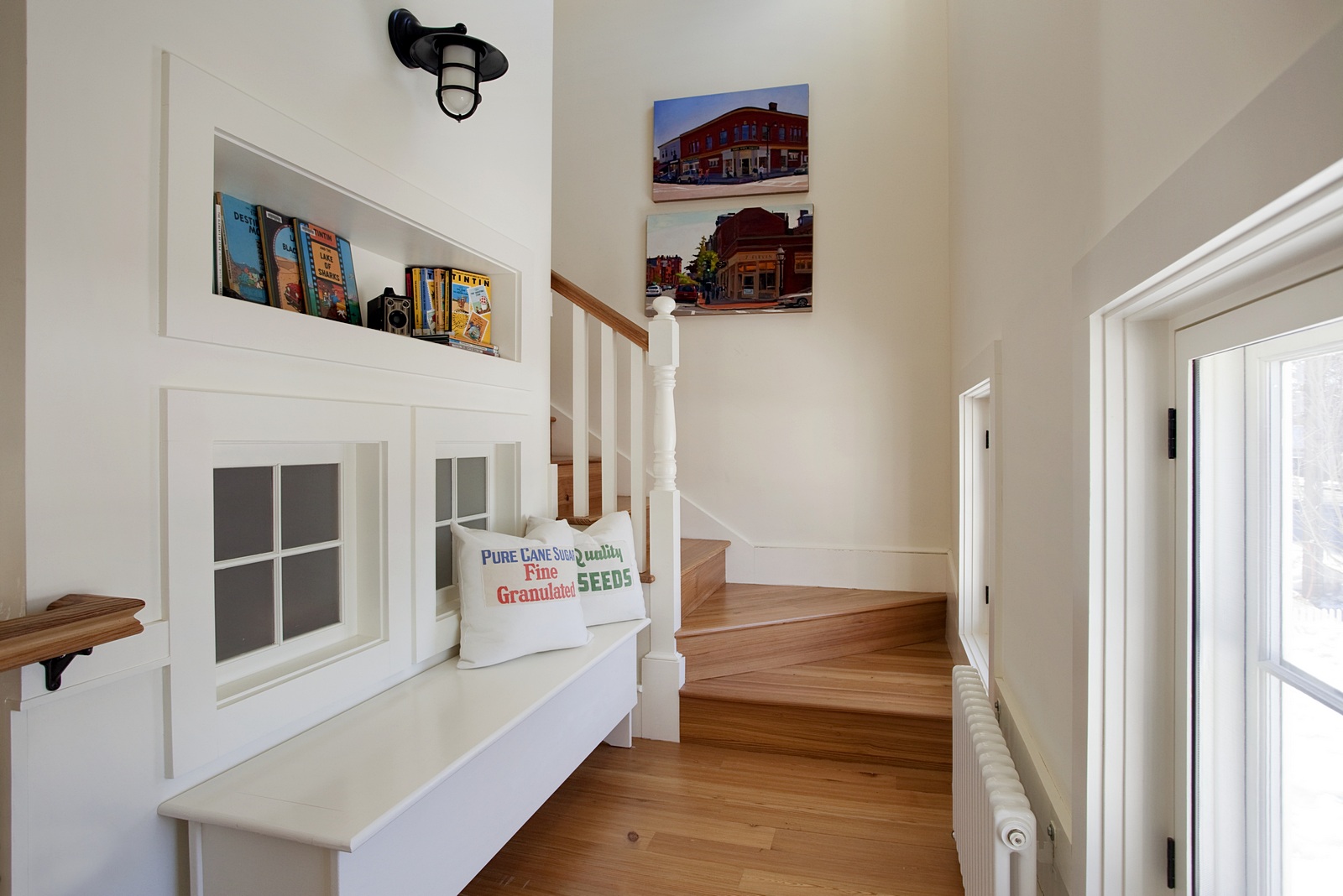 Concord Green Home - Concord, MA
The Concord Green Home is a healthy home and was designed as such from the start.
Given the significant rise in rates of allergies, asthma and chemical sensitivities, the client, interior designer Lisa Kauffman Tharp, placed the highest priority on indoor air quality. Her active family was also willing to trade house size for a prime location that offered a walking community lifestyle. Additional goals included blending seamlessly into its historic setting, meeting Not So Big House principles because of the site's modest footprint, and minimizing energy used by the home to lighten its carbon footprint. The result of a successful collaboration, The Concord Green Home is a living environment that is classically beautiful, healthy and energy efficient.
HEALTH. ZED's holistic approach to design was a natural fit for meeting the project's health goals since allergy and chemical sensitivities are impacted by materials selected during design and used in construction as well as the mechanical heating and cooling systems. During design, ZED worked with Aedi Construction and Kauffman Tharp to specify materials that would not emit irritating gases. ZED also worked with Sustainable Construction Services to prescribe Jobsite Etiquette for the contractor in order to ensure a healthy home.
To avoid a ducted air system and address indoor air quality sensitivities, ZED designed a radiant heating system for the living areas, while the bedrooms received hot water radiators. An energy recovery ventilator connected to a HEPA filter will provide fresh air ventilation without an energy penalty and without admitting outdoor allergens into the home.
NOT SO BIG. A prime location in town comes with a smaller lot and reduced house size when compared to typical suburban living. In addition to leaving the car parked when addressing their community and shopping needs, the family will spend a substantial amount of time in the house; often working from home. Since it was essential that the design meet the family's current needs and appeal to future homeowners, each space has multiple uses, which simultaneously minimize the building footprint and construction budget.
The children's bedroom opens up to a guest bedroom that is used as a play area and study space. The first floor home office faces the northern park view, giving plenty of ambient light, which is well-suited for work tasks. It can also serve as an ADA accessible bedroom for an elderly or disabled guest or future homeowner and is complemented by an ADA accessible full bathroom. In the upstairs master bedroom, an alcove off of the bedroom serves as a secondary office space, which a future homeowner may decide to use as a walk-in closet.
HIGH ENERGY EFFICIENCY. ZED used its design and energy modeling to prioritize more cost-effective efficiency improvements such as extra insulation, high-performance windows, and an efficient heating and cooling system. Further, ZED worked with Kauffman Tharp to balance between daylighting goals, passive solar gains, and heat loss by evaluating numerous window layouts, window models/manufacturers, and glazing options. This input enabled the owner to select a layout package that offered the most attractive total cost of ownership, daylit space, and a future upgrade path for renewable energy.
The resulting design satisfies the homeowner's desire for ample daylighting while ensuring a high-performance building envelope and respecting the budget. Each room in the house has windows on at least two walls - ensuring two different light sources and optimal cross ventilation. Windows on the north side are modest compared to the south side and provide a beautiful view of the park across the street. The overall design is Energy Star Certified to consume 50% less energy than a typical brand new home.
SERVICES: GREEN ARCHITECTURE
AWARDS
PUBLICATIONS
Design New England (Cover Story)
Allergic Living
DESIGN BASICS
Square Footage: 2,700
Bedrooms: 3
Bathrooms: 2.5
AMENITIES
Open kitchen, Ample daylighting throughout, Southern patio, Home office, ADA accessibility, Conditioned attic with dormers for expansion
ENERGY
pEUI: 15.6kBtu/sf/yr
Air Leakage: 1.87ACH50
Better Than Code: 70%
HERS Rating: 50
Spray foam and continuous rigid insulation, Energy Star windows, High efficiency radiant heating, Passive cooling, Solar electric ready
HEALTH
Fresh air ventilation system with energy recovery and HEPA filter, Mold prevention techniques, Radiant & radiator heating - no forced hot air or AC to circulate allergens, Contamination controls during construction. Low/no VOC materials
PROJECT TEAM
ZeroEnergy Design
Architecture
Connor Homes
Building Panels
Construction Documents
Kauffman Tharp Design
Interior Design
Eric Roth Photography
Photography