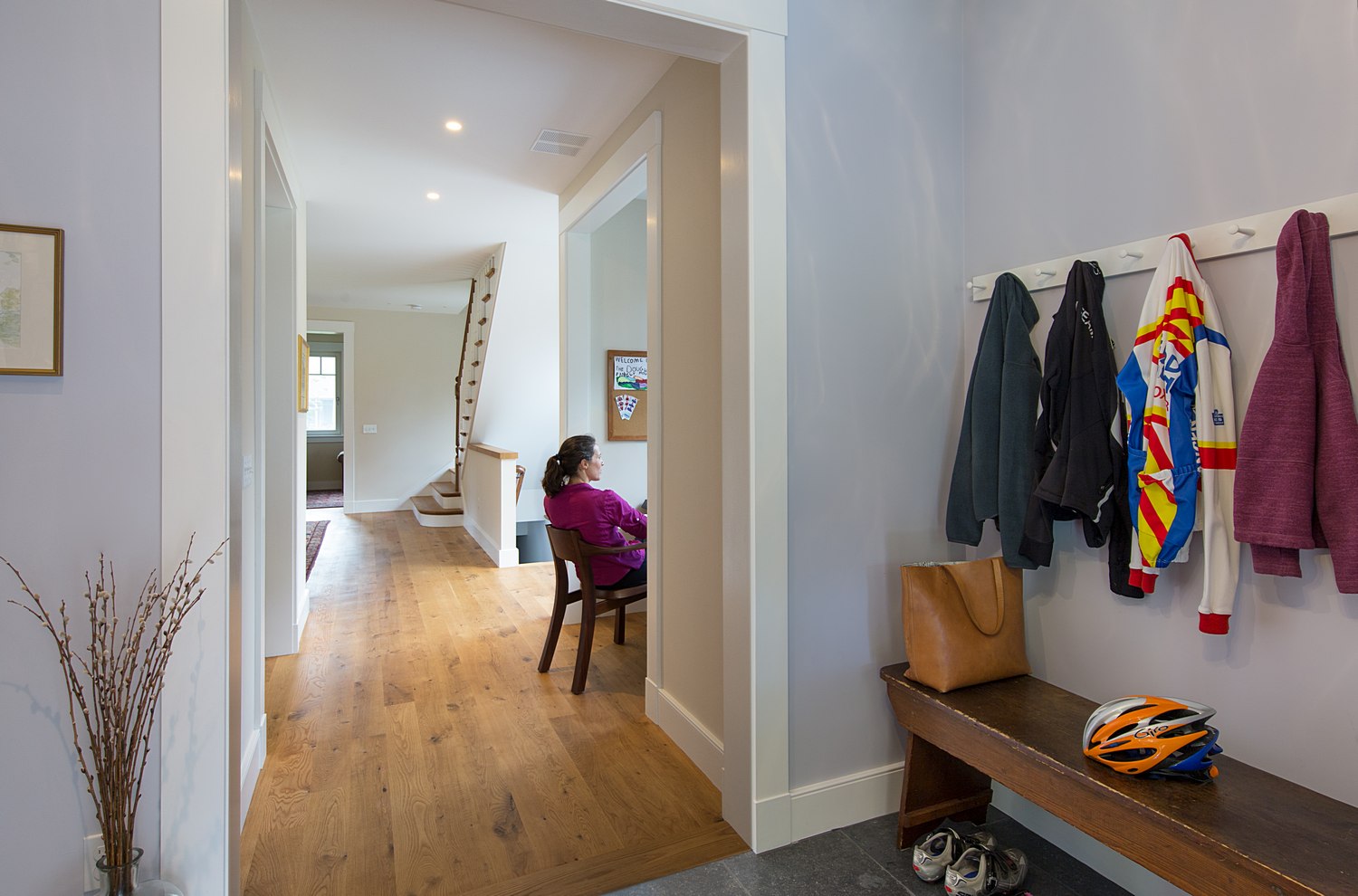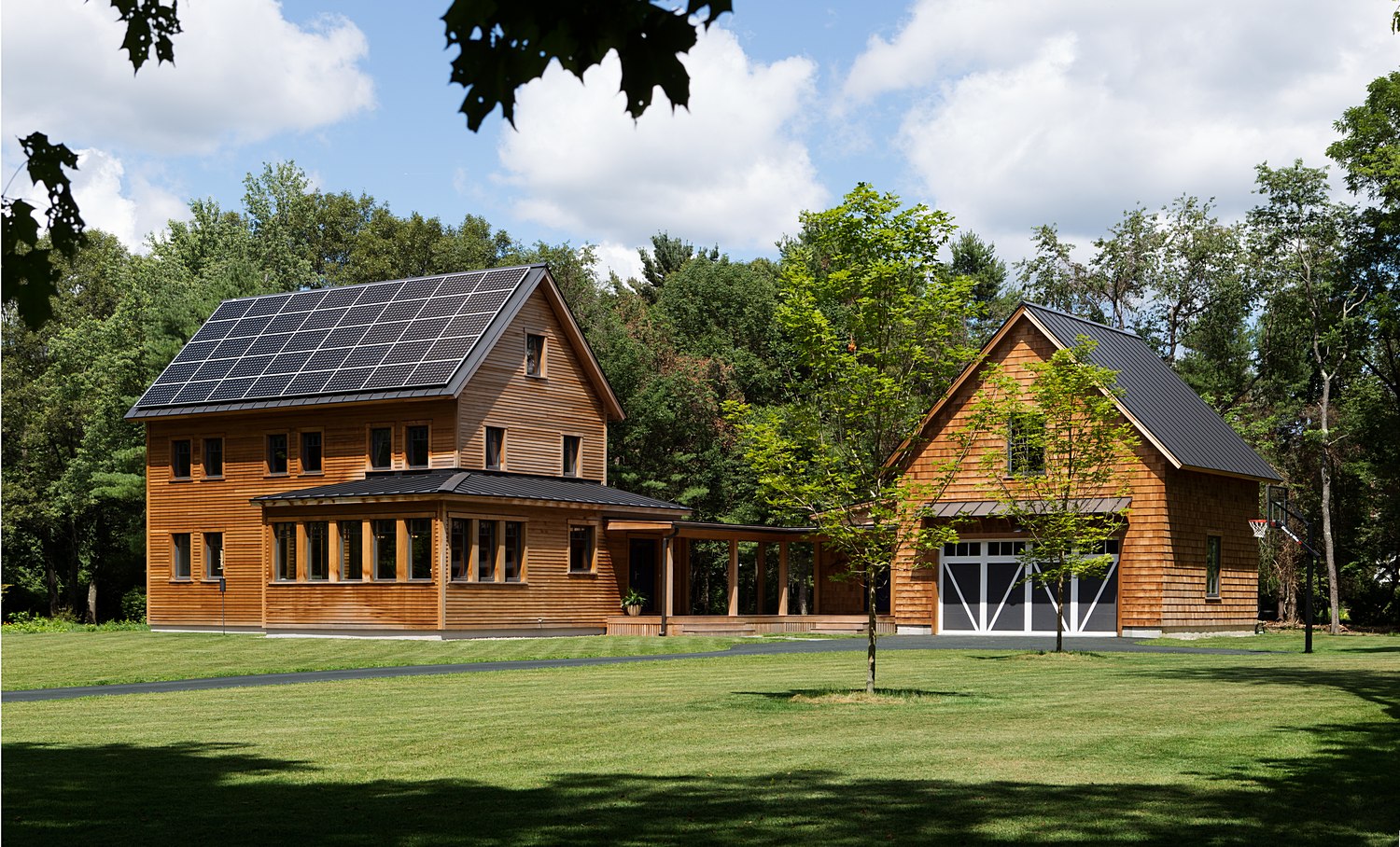 LINCOLN Net Positive FARMHOUSE - LINCOLN, MA
This modern farmhouse blends into the cultural landscape of Lincoln, Massachusetts - a town known for its rich history, farming traditions, conservation efforts, and visionary architecture.
The President of Thoughtforms Corporation and his wife collaborated with ZeroEnergy Design to design and build a home that produces more energy than it uses, creates a strong connection between inside & out, and provides their family with flexible spaces to live-play-work-entertain. The resulting home is proof that families do not need to compromise on style, space or comfort in a highly energy-efficient and healthy home.
INTERIOR. The interior satisfies the family's desire for togetherness, functionality and flexibility. Light, air and activities flow seamlessly through the rooms on the main floor, using wide openings between rooms, high ceilings and large windows. Despite the smaller house footprint and modestly-sized rooms, the living areas seem surprisingly spacious due to the high ceilings, natural light, and warm, clean lines.
Creative space allocation and storage options help to maximize functionality of the various rooms in the house. The family room on the first floor serves as an open play and entertainment area, and includes a large hidden pocket door that converts the room and adjoining full bath into a guest suite when needed. Additionally, this accessible suite could be used to accommodate an elderly or disabled family member. The second floor contains the master suite and children's rooms. On the third level, a spacious, open attic provides flexible space for sewing, crafts, play or more overnight guests.
NET POSITIVE ENERGY. The all-electric home consumes 70% less energy than a code-built house, and with measured energy data produces 67% more energy annually than it consumes, making it a 'net positive' home. Thick walls and roofs lack thermal bridging, by using dense packed cellulose and continuous rigid insulation. High performance, triple-glazed windows round out the super-insulated building envelope. The continuous air barrier yields minimal leakage, with testing revealing only .27ACH50, making the home among the tightest in the US.
An air source heat pump and an energy recovery ventilator ensure that the house stays warm in the winter, cool in the summer, and provide a constant supply of fresh, clean air throughout the year. A heat pump hot water heater, Energy Star appliances, induction cooking complete the high-efficiency package. A 13.1kW array of solar panels produces more than enough energy each year to offset consumption.
A circuit-by-circuit energy monitoring system allows the owners to track their energy consumption and production. The home's impressive net positive energy performance is not only a sustainable addition to a taxed environment, but also offers shelter from future heating & cooling costs, superior thermal comfort, and yields enough energy to support a future electric car for the family.
WATER. Plumbing fixtures and water closets consume a mere 60% of the federal standard, while high efficiency appliances such as the dishwasher and clothes washer also reduce consumption. Rainwater catchment is planned in the future, to collect run-off from the roof for use on the vegetable gardens and landscaping.
PLANTINGS. After clearing all invasive species, apple, pear, peach and cherry trees were planted. Future plans include blueberry, raspberry and strawberry bushes, along with raised beds for vegetable gardening. The house also offers a below ground root cellar, built outside the home's thermal envelope, to gain the passive benefit of long term energy free storage of the land's harvest.
RESILIENCY. The home's ability to weather unforeseen challenges is predictable - it will fare well. The super-insulated airtight envelope means that during a storm with power outage, heat loss will be very slow - taking multiple days to drop to 60 degrees even with no heat source. During normal conditions reduced energy consumption plus energy production means shelter from the burden of utility costs. Any surplus production can power electric cars or other useful appliances. The building exceeds structural requirements for snow and wind loads, plus greatly exceeds standard construction for long term durability planning.
CERTIFICATION. As a formal expression of their exceptional efforts around sustainability, the owners sought third party certification. The home is LEED Platinum certified by the USGBC and has received Zero Energy Certification and a REVEAL label from the International Living Future Institute.
SERVICES: GREEN ARCHITECTURE