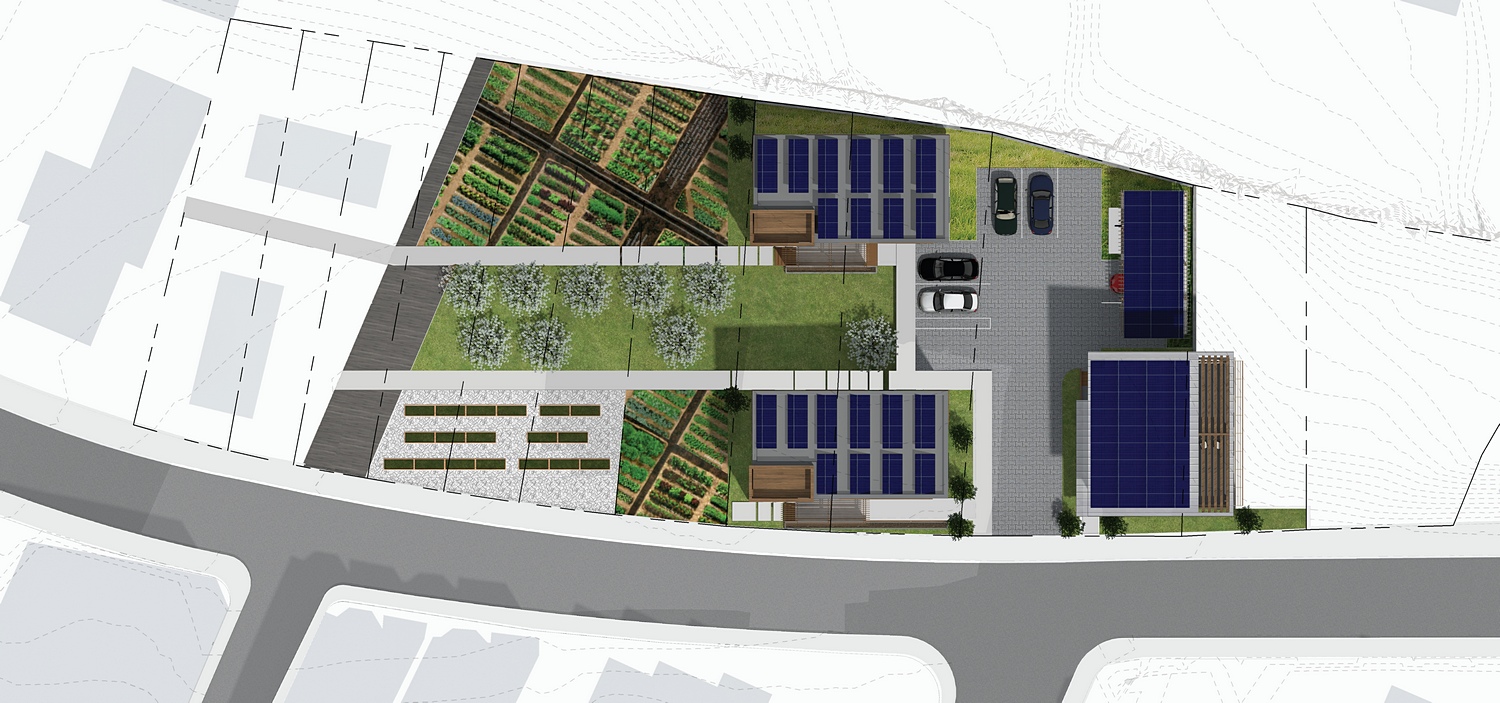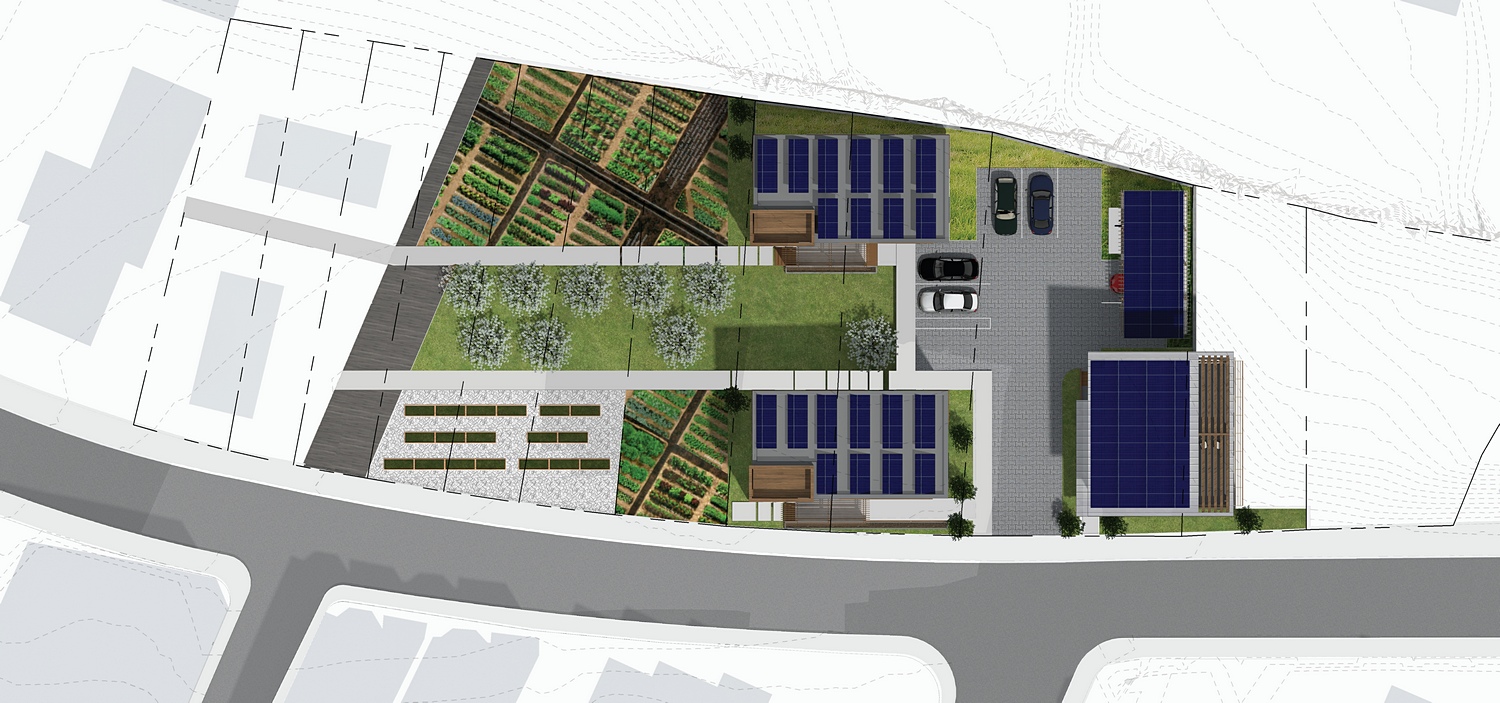 PARKER POsitive - Boston, MA
Eight new condominium homes for ownership, designed within three net positive energy buildings.
OVERVIEW. Together with Nuestra Comunidad Development Corporation, ZED has proposed an energy positive development which includes three, deep green, net positive energy buildings, to provide a total of eight units of new exceptional housing for Boston E+ Housing initiative. The team's development concept empowers eight families with exceptional housing, beyond that currently available in the market, enhancing the lives of the new homeowners - whether inside their private abode, outside planting food in the community garden, or relaxing with the neighbors in the fruit orchard.
TARGETS. Targeting USGBC LEED Platinum certification and beyond net zero energy performance, the buildings will generate extra energy to power the homeowner's electric cars.
COMMUNITY POSITIVE. Parker Positive builds on the rich history of community gardening and public art in the surrounding neighborhood. The buildings serve to complement the neighboring gardens with elements that allow vegetation to grow upon them. The site's unique topography provided an opportunity to assemble the buildings on the site with a focus towards views. The duplex unit to the south captures glimpses of the urban wilds located on the adjacent parcel while the other buildings focus on the community gardens, street and neighboring cityscape. Overall the design seeks to optimize both the site and buildings to provide long term sustainable, happy, healthy living – essentially setting a new standard of living for the future.
SUSTAINABILITY. The largest windows face south for natural light and passive solar gain, while the deep window sills illustrate the super-insulated walls, permeable driveways enable ground water recharge, stair towers allow for vegetation to grow vertically, and the adjacent community gardens with public art encourage meaningful outdoor living. The development also provides its residents with composting bins, a garden shed, covered parking with solar photovoltaics for charging electric cars. With access to public transportation and bicycle storage on site, urban dwellers of all ages can enjoy the benefits featured in this forward thinking development.
HOMEOWNER BENEFITS
Removes the financial burden and uncertainty of fluctuating and unpredictable energy prices
Produces a surplus of energy on site, reducing utility bills and providing excess clean energy
Ensures durability, while lowering maintenance requirements
Uses design elements to keep homeowners both physically and mentally healthy
Offers optimized day lit spaces, clean finishes, and connections to nature
Creates an indoor living environment that is healthy, thermally pleasing and draft-free, with exceptional energy performance
COMMUNITY BENEFITS
Introduces new permanent homeowners, increasing local stability and security
Connects with the communities longstanding artistic traditions with interactive art installations and preservation of existing elements from the current Art Garden
Enables truly local food production in the abutting community gardens with the addition of both raised beds and traditional, urban pea patches
Creates microhabitats that support food gardens and neighborhood biodiversity
Empowers occupants with multiple low carbon transportation alternatives, including public transportation, riding a bicycle, or using the home's excess energy to charge an electric car
Creates attractive new homes that enhance neighborhood character
SERVICES: GREEN ARCHITECTURE
DESIGN BASICS
Square Footage: 10,000
Buildings: 3
Dwelling Units: 8
Status: Unbuilt
SUSTAINABILITY
Plug-in vehicle chargers
Bicycle storage
Community garden access
On-site composting
Rainwater catchment & reuse
ENERGY
Super-insulation
Triple pane windows
Shared photovoltaic system
Net-positive energy (target)
pEUI: 0.0 kBtu/sf/yr
PROJECT TEAM
ZeroEnergy Design
Architecture
Nuestra Comunidad
Developer